Summer program 2019 - charter flights
---
Day
Tur operator
Departure
Time
Arrival Arad
ARW
Deprature Arad
ARW
Arrival
Time
Wednesday
Christian Tour
Antalya AYT
09:50
12:10
12:55
Antalya AYT
15:10
Wednesday
Christian Tour
Tunisia NBE
10:25
12:50
13:35
Tunisia NBE
15:55
Thursday
Tez Tour
Antalya AYT
09:35
11:55
12:40
Antalya AYT
15:00
Friday
Paralela 45
Antalya AYT
08:30
10:40
11:40
Antalya AYT
13:50
Friday
Prestige Tours
Antalya AYT
12:30
14:50
15:50
Antalya AYT
17:55
---
Free parking for all tourists during summer season.
Airport presentation
---
Arad International Airport (IATA code: ARW) is located 4 km from the center of the municipality of Arad, the first important city in Romania at the entrance from Central Europe. It enjoys a good strategic positioning, being near the border with Hungary, 50 km from the road section – the Nădlac border and 20 km from Curtici – the largest checkpoint on railways.
---
Aimed for passengers and freight in domestic and international traffic, the airport serves not only Arad county, with a population of 409,000 inhabitants, but the entire western region of the country.
---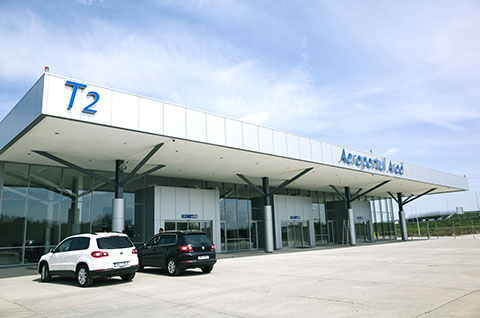 A modern airport
A new terminal for departures was opened in April 2016 - T2. It was designed and built to become an important hub for the western region of the country. The new terminal has the capability of processing a number of 500 passengers per hour. The services provided are of high quality as comfort and convenience of those traveling are considered interest key points to Arad International Airport.
---